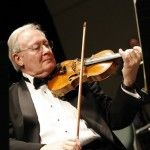 The NSO Endowment Fund provides a path for benefactors of the Newport Symphony Orchestra to ensure its financial sustainability for future generations. If you wish to explore this option, contact our Executive Director, Don Nelson, at 458-868-9155 or execdir@newportsymphony.org.
The following heartfelt letter by Ken Combs, NSO violinist and Board member, explains how he plans to contribute to the sustainability of this wonderful community arts organization.
~~~~~~~~~~~~~~~~~~~
Dear Newport Symphony Supporter,
I have in my possession a rather valuable violin. Up until several years ago I would have stated that fact differently. I would have said, "This is my violin", or "I own this violin". However, I have learned to regard my relationship to this violin in a much different light recently, as advanced age with its more mature perspective has overtaken me.
I'm sharing the following story with you in the hopes that, like me, you will find your own way to contribute to the Newport Symphony Endowment Fund. Your gift, whatever it might be, will help ensure the long-term survival of an organization that has been such an important part of all of our lives.
Here's the story of my gift to the Endowment Fund:
In 1957, I was a promising young college student violinist, majoring in music and hoping for a career in performance or teaching. The violin I had then was a decent student violin worth about $300–all my parents could afford at the time. One day my teacher informed me that as long as I was limited to that violin I would not progress further as a violinist; that the time had come to find an instrument which would allow me to blossom, not hold me back.
The search for a suitable instrument eventually led to a small violin shop in Omaha, Nebraska, where two paths converged that of an eager teenage student and a beautiful golden-hued violin with a rich, deep mellow tone and a brilliance to match. This violin was made around 1790 in Salisbury, England, by Benjamin Banks, one of the most revered of all English makers. Of course, I loved the violin from the moment I played it and we have now been linked together for almost 55 years.
I have taught countless students using this instrument, played hundreds of concerts and recitals, and spent thousands of hours practicing on it. I know its moods, which change daily according to where we are, the temperature, whether there's a change in the weather coming, and innumerable other factors. When it's in a good mood, we are glorious together; when it doesn't feel like responding, there's nothing I can do about it.
Prior to 1957 I knew absolutely nothing about the violin, not even the precise year it was made. I don't know where it has been, who its owners were, how it sustained the considerable damage discovered inside during a routine examination, who repaired it (sometimes excellently, sometimes poorly), and certainly not how it managed to wind up in a small shop in Nebraska in 1957. What I do know is that there is a strong bond between us, a link that has lasted for more than 50 years.
When the NSO Endowment Fund was established, thanks to the great generosity of two of the Symphony's most avid supporters David Ogden Stiers and Jeannette Hofer, I began to give serious thought to the violin's future. What would become of it when the link between us is broken? It could remain in my family among my heirs, but none of them are musicians and my fear is that it would wind up unused and forgotten in an attic or closet, perhaps the victim of eventual decay forever. As much as my children would like to have it as a reminder of their father, the violin would be lost to the purpose for which it was made: producing beautiful music.
It was then that my thinking changed about the relationship between the violin and me. I never really have been its owner. Instead, I have been its custodian, its steward for only one generation of its existence; assuring its continued life, its safety, its protection. What I really want is for this beautiful instrument to pass into the hands of a violinist who will love, respect, cherish and care for it as I have, for the violin to me has become a living, breathing being, not an inanimate object.
For the past ten years I have had the privilege of playing this violin in the Newport Symphony Orchestra, and during that time I have come to love the Orchestra almost as much as the violin itself.
So I have established a living trust and have directed that upon my death the violin is to be taken to a favorite violin shop of mine that specializes in English violins, a shop which is familiar with the instrument through work done there over the years. The shop is to sell the violin to a worthy buyer, hopefully a professional player, skilled amateur or even a talented student who will become its custodian for the next generation and ensure its continued survival. The proceeds of the sale are then to be donated to the Newport Symphony Endowment Fund, helping in some small way to guarantee the future of the organization that has also given me such great joy.
In this way I will be providing a future both to the instrument that has meant so much to me during my lifetime and to the organization in which we were partners in making beautiful music.
This is my chapter in the Newport Symphony's story. Now it's time to write your part of the story. What role will you play to ensure that the Symphony will enrich the life of our entire community for generations to come?
Please take a moment to consider how you can contribute to the Endowment Fund. Your gift is important and will make a real difference. Contact the Newport Symphony at 458-868-9155 for more information.
Sincerely,
Ken Combs
The Newport Symphony Orchestra is a not-for-profit organization with 501(c)(3) IRS status. Contributions to the Newport Symphony are tax deductible to the full extent of the law. The Newport Symphony's Tax I.D. is Tax ID # 93-1013951.