Stay tuned for upcoming Musical events!
Great Music & Intimate Evening
The NSO season began online September 26, 2020 with a performance by our own NSO Element String Quartet and music by Debussy and Pulitzer Prize-winning Black American composer George Walker.
It was an online event with live recorded concert performance.
Then, an audience discussion took place with Adam Flatt and the Quartet Members.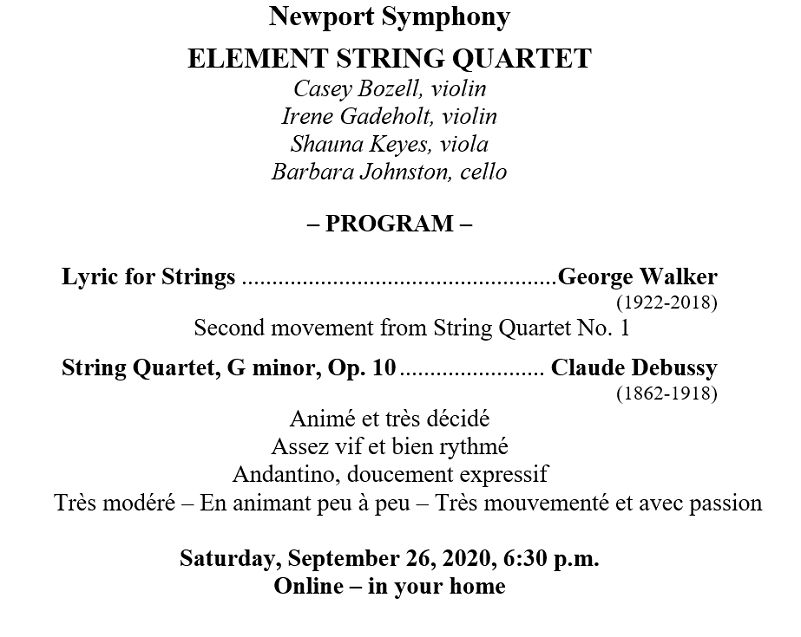 ---
George Walker's "Lyric for Strings," music that speaks directly to the times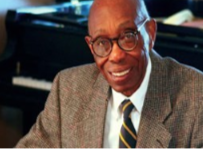 George Walker (June 27, 1922 – August 23, 2018), is internationally renown and the first African-American composer to earn a Pulitzer Prize, but early on for Walker, composing was a side project that gave him somewhere to put his leftover musical energy when practicing five hours a day to become a concert pianist wasn't enough.

That tremendous energy describes both Walker's music and the man who wrote music well into his 90s. 
Walker was born in Washington, D.C. in 1922 and started piano lessons at age five. When he was 14 years old, Walker enrolled at Oberlin Conservatory. After graduation at age 18, Walker enrolled at the Curtis Institute of Music and became the first black graduate from the conservatory in 1945.
After graduation from Curtis, Walker balanced a career as a concert pianist, teacher and composer — achieving many milestones for African-American musicians in each category.
As a pianist he became the first black instrumentalist to perform with the Philadelphia Orchestra when he performed Rachmaninoff's 3rd Piano Concerto. In 1947, he performed Brahms' 2nd Piano Concerto with the Baltimore Symphony Orchestra under Reginald Stewart, and in 1950 he became the first black musician to be signed by a major artist management company, which led to a 1954 tour of seven European countries.
As a composer, Walker wrote more than 90 pieces for solo piano, voice, winds, small ensembles and orchestra. He was awarded the Pulitzer Prize for composition in 1996, and has earned dozens of composition awards and prizes including Guggenheim, Rockefeller and Fulbright fellowships.
Written in 1946, Lyric for Strings remains Walker's best know and most-performed work. The piece was originally titled Lament and is dedicated to Walker's grandmother who died the year prior.  
"String Quartet no. 1 was composed in 1946 after my graduation from the Curtis Institute of Music and my debut recital as a pianist in Town Hall, New York and as a soloist with Eugene Ormandy and the Philadelphia Orchestra in the 3rd Piano Concerto of Rachmaninoff at the Academy of Music in Philadelphia.
The second movement, after an introduction that recurs at the very end, alternates linear melodic phrases, imitated in all parts, with measures of repose. This movement was excised from its original context, arranged for string orchestra and titled, LYRIC FOR STRINGS. It has been performed in this setting by many of the major orchestras and chamber ensembles in this country."
-George Walker
---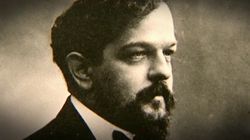 Claude Debussy's (August 22, 1862 –March 25), Quartet blends with the exotic sounds of the Javanese gamelan. He makes color and texture as important as melody. He disconnects from the traditional and harmonic formatting of regular musical scales. His music floats through a surreal landscape. His music lives in the moment.
Pierre Boulez said that with this work Debussy freed chamber music from "rigid structure, frozen rhetoric and rigid aesthetics." Not surprisingly, at the premiere in Paris' Société Nationale on December 29, 1893 much of the audience was bewildered. The reviews by academics was unforgiving. In his era, Debussy's music was too far ahead of its time.
Debussy himself stated about his music:
"Some people wish above all to conform to the rules. I wish only to render what I can hear. There is no theory. You have only to listen. Pleasure is the law."
"Works of art make rules, but rules do not make works of art."
"Any sounds in any combination and in any succession are henceforth free to be used in a musical continuity."
String Quartet's Movement Translations:
I.  Animé et très décidé – Lively and decided
II. Assez vif et bien rythmé – Quite lively and well paced
III. Andantino, doucement expressif – Slowish, softly expressive
IV. Très modéré – En animant peu à peu – Très mouvementé et avec passion Very moderate - By animating little by little - Very animated and with passion
---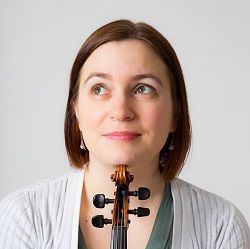 Casey Bozell, violinist, is a diverse and energetic performer based in Portland, Oregon. She is an active solo, chamber, and orchestral player, and is the concertmaster of the Newport Symphony in Newport, Oregon. She also holds positions with the Portland Opera Orchestra and Oregon Ballet Theater. She has performed as a soloist with the Newport Symphony, Beaverton Symphony, Linfield Chamber Orchestra, Corban University Orchestra, and the Central Oregon Chamber Orchestra. She has served on the faculty of the Young Musicians and Artists summer camp since 2010 and is a founding member of the Portland-based piano trio Hammers and Bows. Casey received her Bachelor of Music Performance from the University of Northern Colorado, and her Masters of Music Performance from Northwestern University. She lives with her husband, daughter, and two cats; the latter aren't huge fans of the violin.
---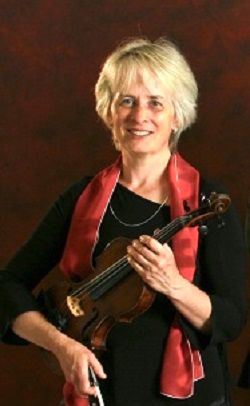 Irene Gadeholt, violinist, is a versatile performer with an extensive array of accomplishments in Oregon music circles. She performed many seasons as a core member of the Oregon Symphony and West Coast Chamber Orchestra. In addition, Irene regularly performs with many symphonic, opera, ballet, choral groups and other special events statewide. While continuing her active freelance orchestral playing, in 2018 she was appointed Associate Concertmaster of the Newport Symphony. Irene is also active performing with the Raphael Spiro String Quartet as well as with many other local chamber music groups. She holds a BA in Music Performance from PSU and studied violin with Raphael Spiro and Michael Foxman, with chamber music coaching from Michael Foxman, the Kronos Quartet, and the Floristan Trio. Having formerly been concertmaster and soloist with the Portland Youth Philharmonic, Irene continues to mentor aspiring musicians through her private teaching studio.
---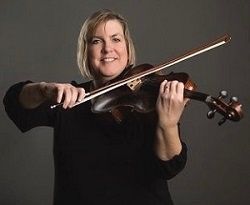 Shauna Keyes, is an accomplished and busy violist. She is Principal viola for the Newport Symphony and currently a member of the Eugene Symphony and Portland Opera Orchestra. She has also played for many years with the Oregon Ballet Theater Orchestra and Oregon Symphony. Although she is most active as an orchestral musician, chamber music holds a special place in her heart. She spent many summers growing up attending chamber music camps with her parents. She fell in love with the quartet repertoire and especially quartets with a rich and vibrant viola part (such as the Dvorak American Quartet). She is looking forward to this collaboration with her colleagues from the Newport Symphony.
---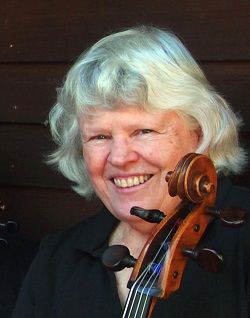 Barbara Johnston, cellist, studied music at Stanford University, the University of California at Berkeley and the Guildhall School in London. Among her teachers were Colin Hampton of the Griller Quartet, William Pleeth of London's Allegri Quartet, and Raymond Davis, principal cellist of the Seattle Symphony. She has played with the Oregon Symphony, Seattle Symphony, Pacific Northwest Ballet, Seattle Opera and Oregon Ballet Theater. She has appeared as soloist with a number of orchestras in the Pacific Northwest. Barbara is principal cellist of the Newport Symphony Orchestra and the Portland Columbia Symphony Orchestra. She plays regularly with several Portland-area chamber music groups. Barbara lives in Scappoose, Oregon with her husband, Craig, the principal timpanist of the Newport Symphony. She is retired from her law practices in Oregon and Washington, and now can devote additional time to orchestral and chamber music, as well as writing, photography, gardening and sailing.