PRICE LIST
Pens are listed in alphabetical order by pen codes.
Click here or the photo below to download the Adobe PDF of the Price List. (Last Updated September 7, 2020)
INFORMATION
Email questions to melody@newportsymphony.org.
PAYMENT
We accept VISA and MasterCard online.
Checks are accepted. However, pen(s) will be mailed after the check has cleared the NSO bank.
ORDER FORM
An Online Order Form can be found here.
A Printable Copy of the Order Form can be found by clicking here or the image below.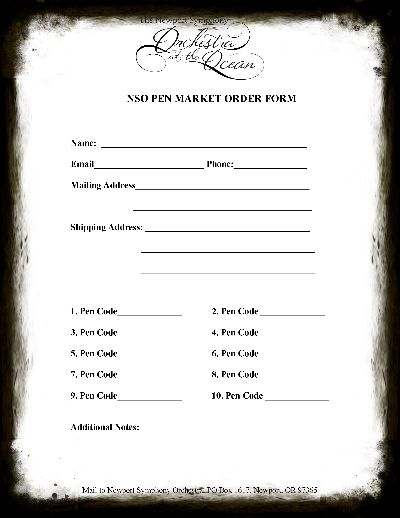 Your completed order form can be emailed to melody@newportsymphony.org, or mailed to: Newport Symphony Orchestra , PO Box 1617, Newport, OR 97365. 
Once your form is received, a confirmation invoice for payment will be sent.
SHIPPING
The shipping fee is $15 for Priority Mail within the Continental US.
Pens will be shipped within 7 days or once we have received payment to our bank account.
Notification of when a pen(s) has been shipped, along with USPS tracking number, will be sent via email from melody@newportsymphony.org.
REFUNDS
Returned pens will be refunded if received within 14 days of shipping and in the same condition as sent from NSO.
Return shipping is at the purchaser's expense.
Refunds will be within 10 days after receiving a pen(s) at NSO office. Refunds will be made by check from the NSO.
Returns can be sent to:
                        Newport Symphony Orchestra
                        P.O. Box 1617
                        Newport, OR 97365