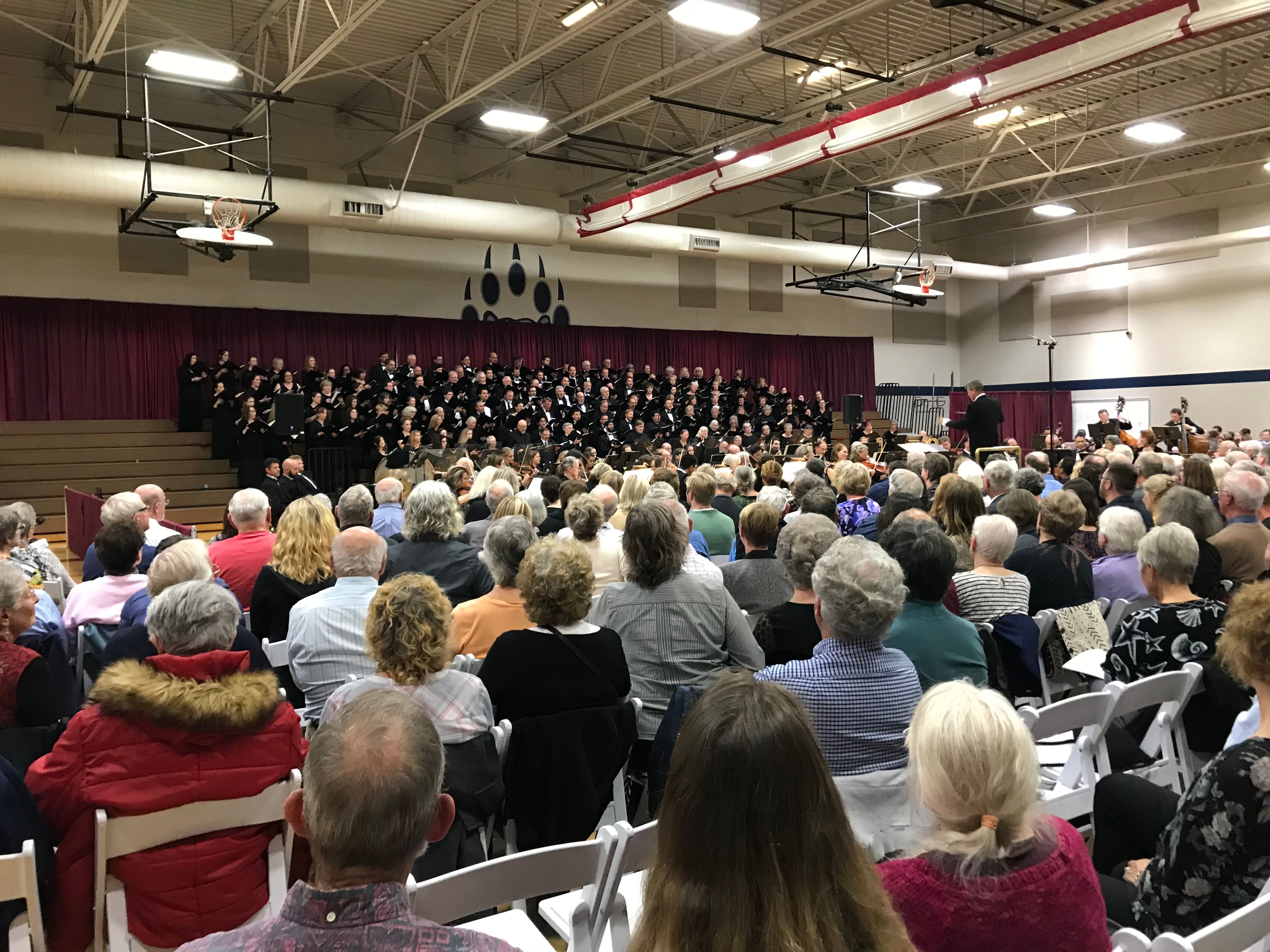 The Newport Symphony Orchestra at the Ocean opened its 30th anniversary season in the grandest of styles with the performance of Beethoven's Ninth Symphony to a packed house at Newport Middle School. New NSO President Loria Holden opened the concert, congratulating the orchestra on its 30th season. Then Hon. State Representative David Gomberg spoke to the immensely positive effect the NSO has had on our community, and read a letter from Gov. Kate Brown honoring the orchestra for its achievement. Newport Mayor Sandy Roumagoux read a proclamation from the City of Newport marking the occasion. 

This year Music Director Adam Flatt chose a piece so big it could not packed into the PAC (Performing Arts Center). With three choirs, -- Central Coast Chorale, Corvallis Repertory Singers, and Willamette Master Chorus -- a total of over 150 voices, -- plus the 58 member orchestra, the performance was held in our local "Carnegie Gym" at Newport Middle School "Spellbinding!" was how one patron described the performance. New NSO concertmaster Casey Bozell opened the concert with a stirring, heartfelt performance of the Baal Shem Suite by Newport's own Ernest Bloch. In attendance was Bloch's great-grandaughter Suzanne Bloch Boyer who thought the performance was fabulous. Then followed the moving and powerful Ninth Symphony by Beethoven. Halfway through the fourth movement, the choruses rose to sing, "Freude!" (Joy!). And with power and precision, they filled the hall with their rich and harmonious tones. Newport Cub Erica Brookhyser, now a nationally known opera singer, sang the mezzo-soprano role, along with soloists Janice Johnson, Les Green, and Anton Belov. As the final notes rose upward, even so, the audience jumped to their feet, roaring its approval. 

The NSO's 30th Season is presented by Georgia-Pacific. This concert was also sponsored by Oregon State Credit Union and Samaritan Health Services.

The concert was dedicated to long-time NSO Board Member Brian Hanna, who died September 3. Brian will be remembered as the author of countless reviews of NSO performances in this space in the News-Times and will be dearly missed.