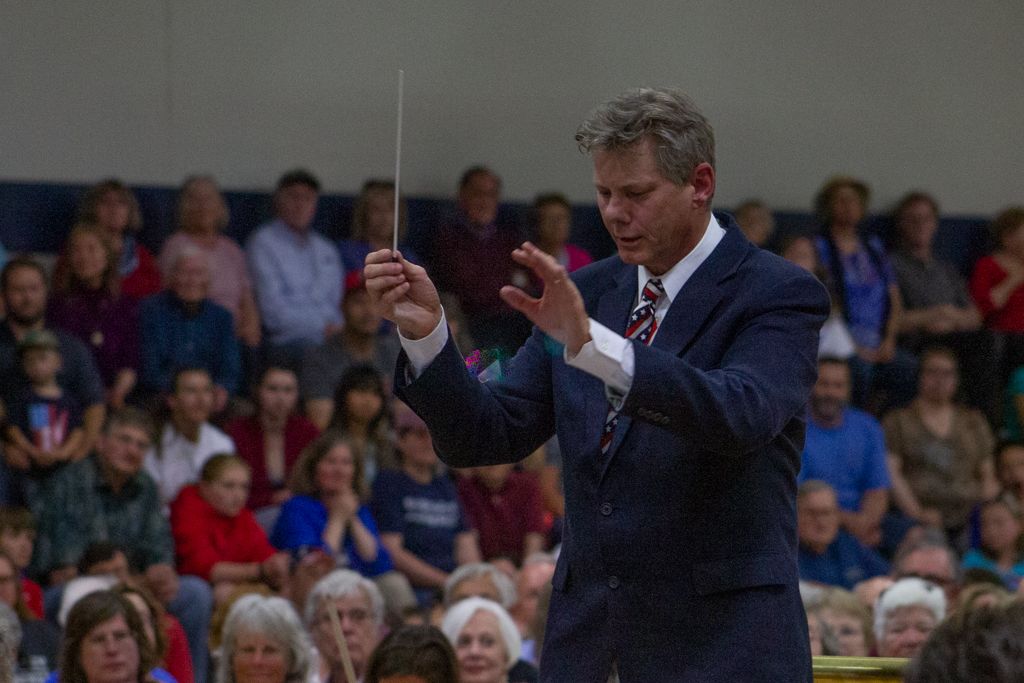 Each year the Newport Symphony Orchestra gives to our community a free concert on the Fourth of July to celebrate America, and the concert last week did so in so many ways, -- red, white, and blue! Supported by the generosity of Georgia-Pacific, Oregon Coast Bank, and Rogue Ale, the NSO musicians, conducted by Maestro Adam Flatt, opened with John Philip Sousa's rousing Liberty Bell March, which had hands clapping in time. Movie goers were then treated to the luscious and lively music of Wonderwoman and Mary Poppins. 
The audience cheered for the powerful piece "Huapango" by Mexican composer José Pablo Moncayo which displayed the full, rich sounds of the orchestra, from trumpets to strings. This was followed by the poignant Ashokan Farewell, tenderly performed by in his debut NSO solo performance by violinist Alistair Kok. This piece is familiar to those who watched the 1990 miniseries on the Civil War by Ken Burns, the most watched program ever to air on PBS. 
Members of our armed forces, active and retired, were recognized by the stirring armed forces salute. Nearly 700 brightly dressed audience members then celebrated our nation by joining in singing along with Woody Guthrie's folk classic "This Land is Your Land."
Behind stage, Tom Hurst, supported by a small team of Brad Capshaw, Leatrice Lily and others, tirelessly, set up and managed this annual production. Special thanks goes to Paul Brookhyser and his parking lot team who joyfully shuttled audience members between fairground lots and the middle school before and after the performance. This concert brought out the best traits of our community, in symphony, song, and sentiment.