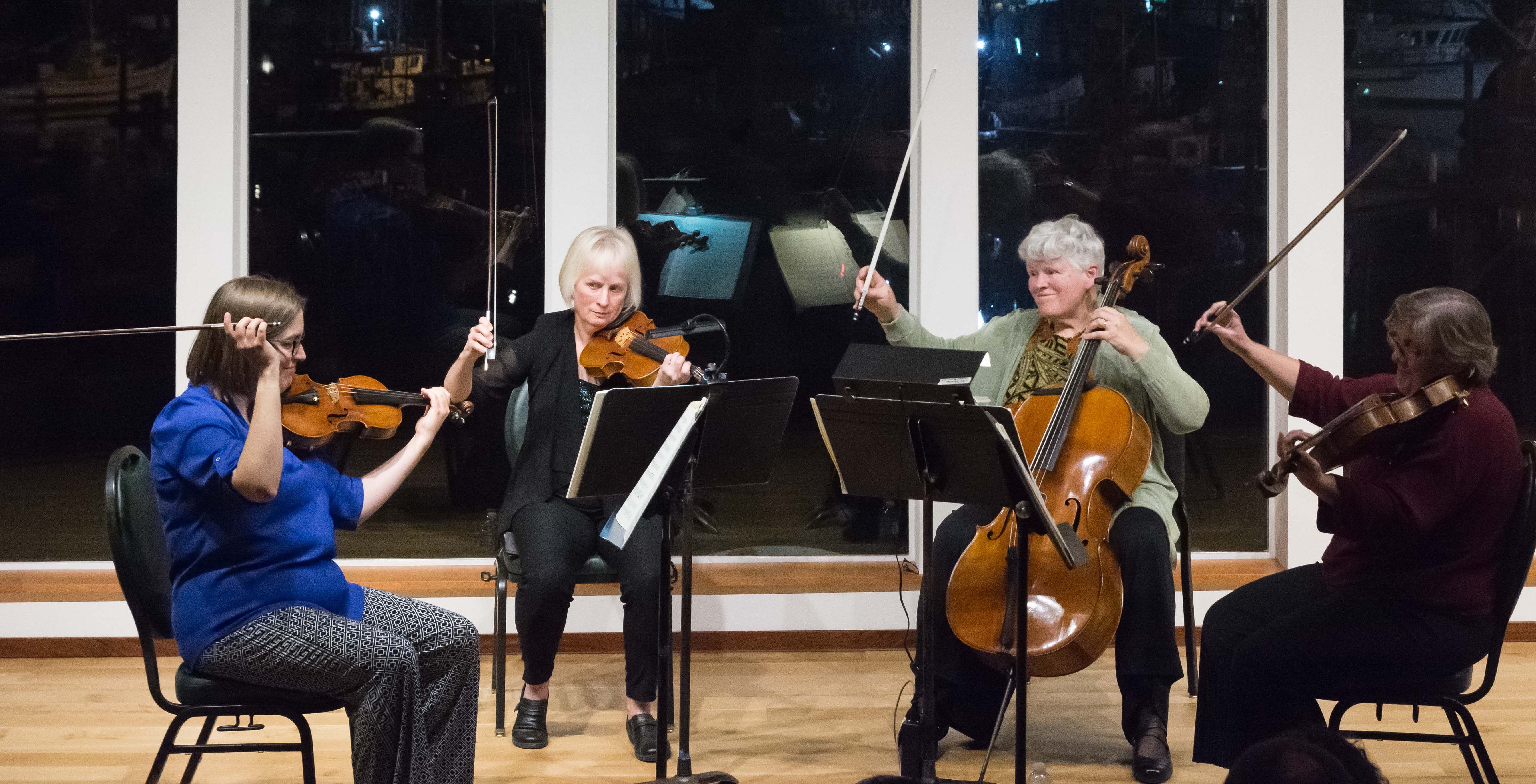 Great music, skilled musicians and gorgeous views of Yaquina Bay all came together Saturday night, Oct. 19, when the Newport Symphony Element String Quartet performed in the Doerfler Family Theater at the Pacific Maritime Heritage Center.
 
The quartet, led by Casey Bozell, concertmaster of the Newport Symphony Orchestra, and joined by her NSO colleagues Irene Gadeholt on second violin, Shauna Keyes on viola and Barbara Johnston on cello, performed works by Ludwig van Beethoven, Astor Piazolla and Antonin Dvorak.
 
First on the program was Beethoven's String Quartet in C Major, Opus 59, number 3. This was the first of Beethoven's three so-called "Razumovsky" string quartets written in 1806 and commissioned by the Russian ambassador in Vienna, Count Andreas Razumovsky.
 
The quartet has a slight Russian flavor that Beethoven's originality – his mark of genius – renders barely discernable. The vigorous final measures of the last movement are famous for rushing to a false stop that saw the players holding their bows aloft while the audience gasped in delight.
 
Astor Piazzolla (1921-1992), born in Argentina, was most famous as a tango composer. His "Oblivion" for strings  – in this case arranged for quartet – is a restless, atmospheric piece with a Latin flair. The first violin carries the melody, which I found vaguely familiar even though it was my first time hearing the piece.
 
Dvorak wrote his "American" string quartet in F major while on vacation in 1893 in the hamlet of Spillville, Iowa. It was settled by Bohemian and German immigrants that the composer, born in a village near Prague, surely found hospitable. Finishing the quartet in two weeks after composing – also in Spillville – his epic Symphony No. 9 ("From the New World"), the composer wrote on the last page of the score: "Thanks God. I'm satisfied. It went quickly."
 
The quartet evokes the spirit of the  American West and the open, sunny plains that may have reminded Dvorak of the Bohemian plateau in his native Czechoslovakia.
 
The four musicians of the Element String Quartet performed superbly. Casey Bozell briefly and cheerfully introduced each piece to the audience. Her enthusiasm was infectious and her playing partners were in obvious harmony with her. 
 
The Doerfler Family Theater was formally opened to the public over the summer and it might be the finest such venue on the entire Oregon Coast. Lovingly restored after years of diligent craftsmanship (and fundraising) by an army of volunteers led by Steve Wyatt of the Lincoln County Historical Society, the acoustics in this intimate space are close to perfect.
 
The panoramic views of the bayfront from any seat in the house make it challenging to keep one's eyes and ears focused on whatever magic is happening on the stage. The Element String Quartet, however, had no difficulty holding my attention.