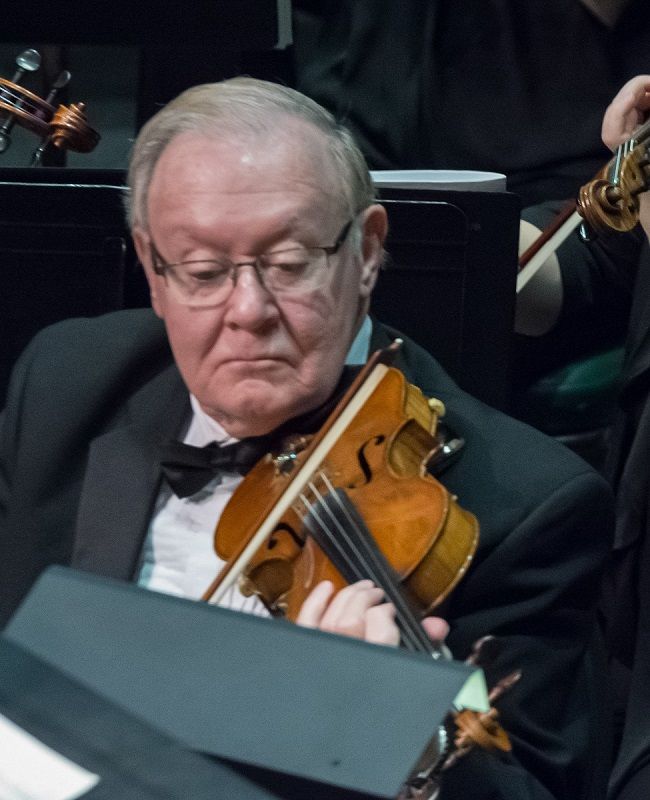 Ken Combs:
1. What is it you are looking forward to performing in the upcoming concert?  
For me its always fun to play Rachmaninoff and Tchaikovsky regardless of the number of times you've played it before.  I'm looking forward to that aspect of the concert: but also to playing a new work never played previously, the Kenji Bunch piece.  Being introduced to a new composition is challenging, exciting and fulfilling, regardless of whether I actually like the piece or not.  It keeps my lifetime fascination with music fresh and rewarding.
2.  What is the most difficult thing you have to do to prepare? 
Some days the most difficult thing is just to pick up the violin for practice, being susceptible to procrastination and the attraction of other tasks or activities that come to my attention.  But there are other days when I can't wait to pick up the instrument for practice.  Focusing on those passages in the music that are technically difficult and spending time trying to analyze and solve their secrets, then practicing them over and over is both fun and difficult at the same time.  
3. How many times do you have to practice a particular portion over and over? 
Until I get them figured out and their secrets solved!  This sometimes means going over them several times each practice session or, for the most challenging passages, going over them dozens of times each session.  
4.  Why should people come to this concert - what will be fulfilling for them to hear and experience this music?
This program is a great example of how the NSO fulfills its mission for our audience: presenting two compositions that are audience pleasers--Rachy and Tchaik--and one composition that is brand new to them--Bunch--as an "educational" listening experience.  Audience members will be anxiously awaiting the concerto and symphony that most of them may have heard multiple times in the past, either from a live performance, CD or radio broadcast.  These works are familiar, contain wonderful melodies, rich harmonies and full orchestrations that audiences love.  The Bunch, on the other hand, is an adventure for them.  They probably will cautiously approach this work, some with anticipation and others with dread, wondering what sounds will confront them.  Will they like it or hate it?  Is the music "approachable" or "foreign"?  Would they like to hear more from this composer at some point?  Whatever their reaction, they will undergo a musical adventure along with enjoying works whose melodies are unforgettable.
Another attraction is the piano soloist, Hunter Noack. He is a local Newport product who has made a nice career for himself in Oregon.